IT'S SPRING! Here are 5 Easy, Cheap, and Fun Spring Activities!
As the weather starts to warm up and the sun stays out later, it is the perfect time to start getting back outside with the Kiddos! There are tons of fun, easy, and often free activities you can do with your kids this spring!
---
Have a picnic!
This can be for a lunch outing or dinner on your way home from work.
For a lunch outing, turn it into a little tea party, using tea sandwiches and the tea set, I know is buried somewhere in those toys!
Hectic day and don't know what to have for dinner? Wait, isn't that every day? Pack a blanket in the car in the morning. Grab the kids from school. Stop to get sandwiches, pizza, Chinese, or the family favorite and head to the nearby park. Kids can play, you can get some vitamin D, and everyone gets fed!
Mandy over at sugarbeecrafts.com got take out Bob Evans for their picnic!
---
Gardening!
Nothing says spring is here quite like a blooming garden! There are so many ways to start a garden, and this is a great link if you aren't much of a gardener to get started: Better Homes and Garden
Whether you decide to start from seeds or get some pregrown plants your kiddos will love being able to get down and dirty!
Don't have a yard to garden in? No worries, many communities have local gardening plots that you can rent! If renting a plot isn't for you, you can grab a small window bed, and create a little herb garden in any space!
Also, If you get adventurous and plant fruits and veggies, kids will be amazed by what they grew and will be so excited to try it, even if it is something they would normally shake their heads at!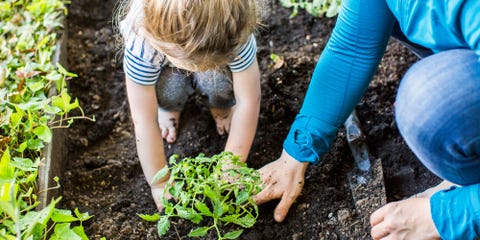 ---
Dye Your Own Flowers!
You can create your own colored flowers with a few simple steps!
Gather, or buy all white flowers of your choice. Fill your vase, jar, or cup with colored dye. Freshly trim the stems and place in the colored water! Watch the petals of the flowers change color as they absorb the colored water!
To see a full set of instructions click on the image below!
---
Make Natural Art!
You can gather sticks, leaves, flowers, and anything else outside and use it to create works of art! Glue pieces together, paint them, glue them to paper, or set them up in an old shoe box and create a scene!
---
Backyard Cook-Off!
Did it just rain, all the playgrounds are wet, and everything is muddy? Well, head to the backyard and cook! Using mud and old dishes a full course meal can be prepared! In Addition, you can also throw in some dried food, pasta, corn, lentils, that are probably in the back of the cupboard and beyond freshness!
Just make sure to pretend to eat those amazing dishes!